Yes, we do takeout!
(Gratuity greatly appreciated!)
No online orders

We do not accept American Express

$20.00 minimum on credit/debit cards processing takeout orders
697 Lisbon Street
Lisbon Falls, Maine
Call:
207-353-6069
Tuesday-Saturday

11 AM - 9 PM
Sunday 11 AM - 8 PM
Limited indoor dining
Outdoor dining
under enclosed tent
(weather permitting)
Hand-Cut Fries
Plain $6.95
Add Chili & Cheese $9.95
Add Cheese and Gravy $8.95
Hand-Battered Onion Rings
(Large Order)
$7.95
Fresh Chicken Tenders
or
Mike's Famous Wings
Reg. $9.95
Lg. $13.95
Plain, BBQ, Buffalo
Extra sauce add $1.25
Jalapeno Poppers
$7.95
Mozzarella Sticks
$7.95
Dipping Sauces:
Sweet 'n' Sour, Blue Cheese, BBQ, Honey Mustard, Ranch, Buffalo, Sour Cream
$1.25
Homemade soups, chili, and chowders
Served with choice of biscuit or crackers
Soups and Chili
Turkey Noodle Soup
Chicken Noodle Soup
Broccoli Cheddar
Chili
(Cornbread when available)
Cup $4.95
Bowl $6.95
Fish Chowder
Cup $5.95
Bowl $8.95
Seafood Chowder
(when available)
haddock, scallops, shrimp
Cup $6.95
Bowl $10.95
Loaded Philly Steak or Chicken Sub
with mushroom, onions, green peppers, American cheese
Served with fries and pickles
$10.95
Fresh Haddock Sandwich
on a bulky roll with tartar sauce (add lettuce and tomato $1.00 each)
Served with fries and Cole slaw
$10.95
Fresh Pastrami on Rye
with Swiss cheese and mustard
Served with chips and pickles
$10.95
Fresh Maine Lobster Roll (when available)
Served with chips and Cole slaw
Reg. - Lg.
Market Price
Canned soda, bottled water, bottled beer, and canned alcoholic beverages available for takeout

"Beer is proof that God loves us and wants us to be happy."
- Benjamin Franklin
SANDY'S FAMOUS FRESH BURGERS:
- Always made to order!
- Never frozen!
- Made from 100% real Grade A local beef!
Railroad Burger
$9.95
Famous Cheeseburger
$10.95
Mushroom Swiss Burger
$10.95
Bacon Burger
$12.95
All burgers served with fries, mustard relish, ketchup
Add lettuce, tomatoes, onions, BBQ sauce
$1.00 each item
Sandy's Classic Shepherd's Pie
made with fresh ground beef, sauteed onions, creamed corn and homemade mashed potatoes
Served with garlic bread
$9.95
Chicken Tender Dinner
made with fresh (not frozen) chicken and
hand-tossed in Sandy's own secret recipe!
Served with fries, Cole slaw, and bread
$12.95
Make it Buffalo or BBQ add $1.00
CATCH OF THE DAY:
- Fresh Every Day!
Seafood Combo
Scallops, haddock, shrimp
$22.95
Haddock Dinner
$12.95
Scallop Dinner
$18.95
Fresh Whole Belly Clams
(Market price)
Captain's Platter
Scallops, clams, shrimp, haddock
Served with fries, Cole slaw, bread, and tartar sauce

Extra Sauces
$1.25
Cocktail Sauce
$1.50
Substitutions
Onion Rings to Entree
$3.00
Veggie of the Day
$2.50
Sides:
Mashed Potatoes
$2.50
Gravy
$2.50
Cole Slaw
$2.50
1/2 Pint Cole Slaw
$4.75
Consuming raw or undercooked meats, poultry, seafood, shellfish, or eggs may increase your risk of food-borne illnesses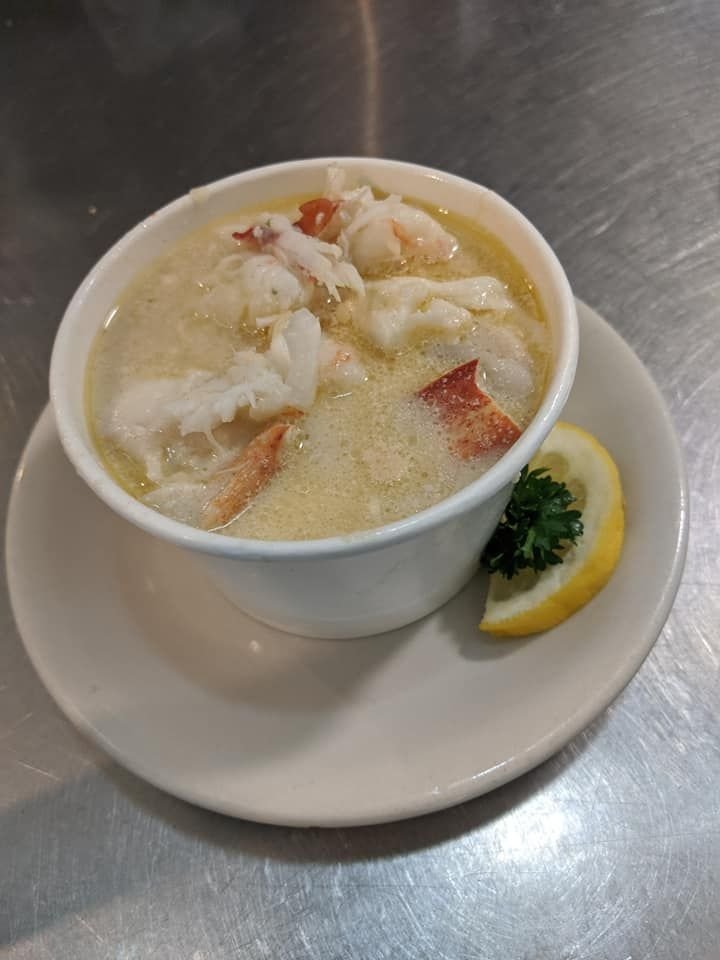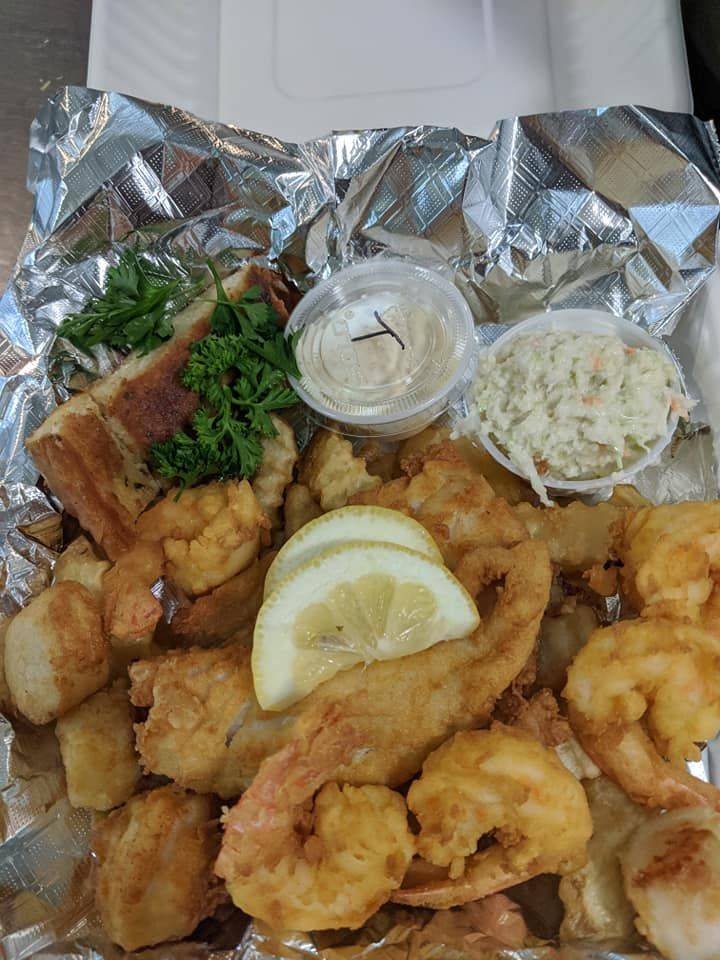 /